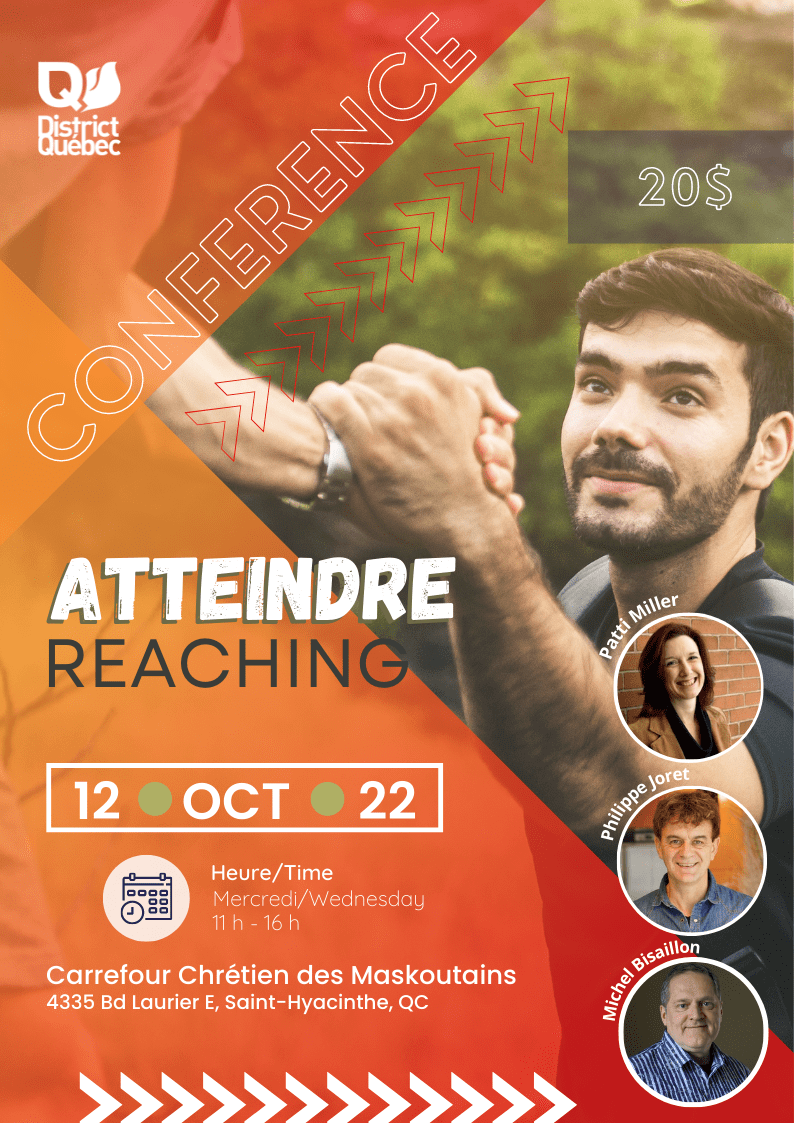 Conférence Atteindre | Reaching Conference
October 12, 2022 @ 11:00 am

-

4:00 pm
Bilingual & Open to all!
In this time of assessment and restructuring in order to achieve greater growth, the district invites you for a time of exchange, encouragement, and fellowship. It is time to REACH out to our communities in their reality and be willing to adapt to what the Spirit wants to reveal to us.
Hurry up and spread the word, registrations ($20) ends October 11, 2022 – 8:00 am.
* Meal included
** Free for those under 30 and students of the Institut Biblique du Québec (IBQ).
---
On the program
Registration (to be done online before the deadline)
Coffee break & exchange time
Word of our superintendent, Michel Bisaillon
Worship
Message from Rev. Patti Miller
Lunch break (meal included)
Worship
Message from Pst. Philippe Joret
Q&A session with our panelists: Rev. Patti Miller, Pst. Philippe Joret and Michel Bisaillon
Prayer time and closing
---
Panelist: Rev. Patti Miller
Rev. Patti Miller is currently the lead pastor of Evangel Pentecostal Church in Montreal, Quebec, having previously pastored in Toronto and Hamilton, Ontario. She has served on the Western Ontario District Executive, as well as on various PAOC committees and working groups. She is a graduate of Eastern Pentecostal Bible College (B.Th.), as well as McMaster University (Hon. B.A., Sociology). Patti is passionate around three areas: urban ministry, with its unique challenges; the nation of Ukraine, which unexpectedly captured her heart in 1999; and helping to make a way for other women called to be pastors. She has been happily married to Jeff since 1992 and still laughs at his jokes. Their puppy lives with them in downtown Montreal. Précédemment, elle a été Pasteure principale à Toronto et Hamilton en Ontario. Elle a siégé comme membre du Conseil exécutif du District de l'Ouest de l'Ontario ainsi que dans divers comités et groupes de travail APDC. Elle est diplômée de Eastern Pentecostal Bible College (devenu Master's College and Seminary) et a récemment obtenu son baccalauréat avec honneur en Sociologie à Mc Master University. Patti est passionnée par trois domaines : le ministère urbain avec ses défis uniques, l'Ukraine, qui a saisi son cœur par surprise en 1999, et aider d'autres femmes à répondre à l'appel du pastorat. Elle est mariée et heureuse avec Jeff depuis 1992; ses blagues l'amusent toujours autant.
Panelist: Pst. Philippe Joret
Philip became a Christian in 1977. He was trained in ministry at the Kolding International Apostolic Bible College (DK) in 78 and 79. In 1981, he founded a local church in Montauban (southwestern France), which later on became a regional and international missionary center, from where new churches were born for several years. In 1988, his heart was set on the French-speaking countries and he felt a challenge to build bridges between the ministries present in the French-speaking world. Welcomed to Canada in 2007, Philippe lives his passion to inspire and accompany leaders to build relevant churches and healthy communities in the French-speaking world. His mission statement is: "Healthy leaders for healthy churches and healthy nations". With professional coaching training under his belt, Philippe is also the author of several books, a speaker and lecturer, invited in several continents to share the Gospel and his vision for an inspired and vibrant church. He is known as a dynamic teacher, challenging the status quo with a creative and passionate outlook. Philippe and Isabelle, his wife, are leading an alternative and contemporary church plant in the Montreal area. They have six children and nine grandchildren.
---