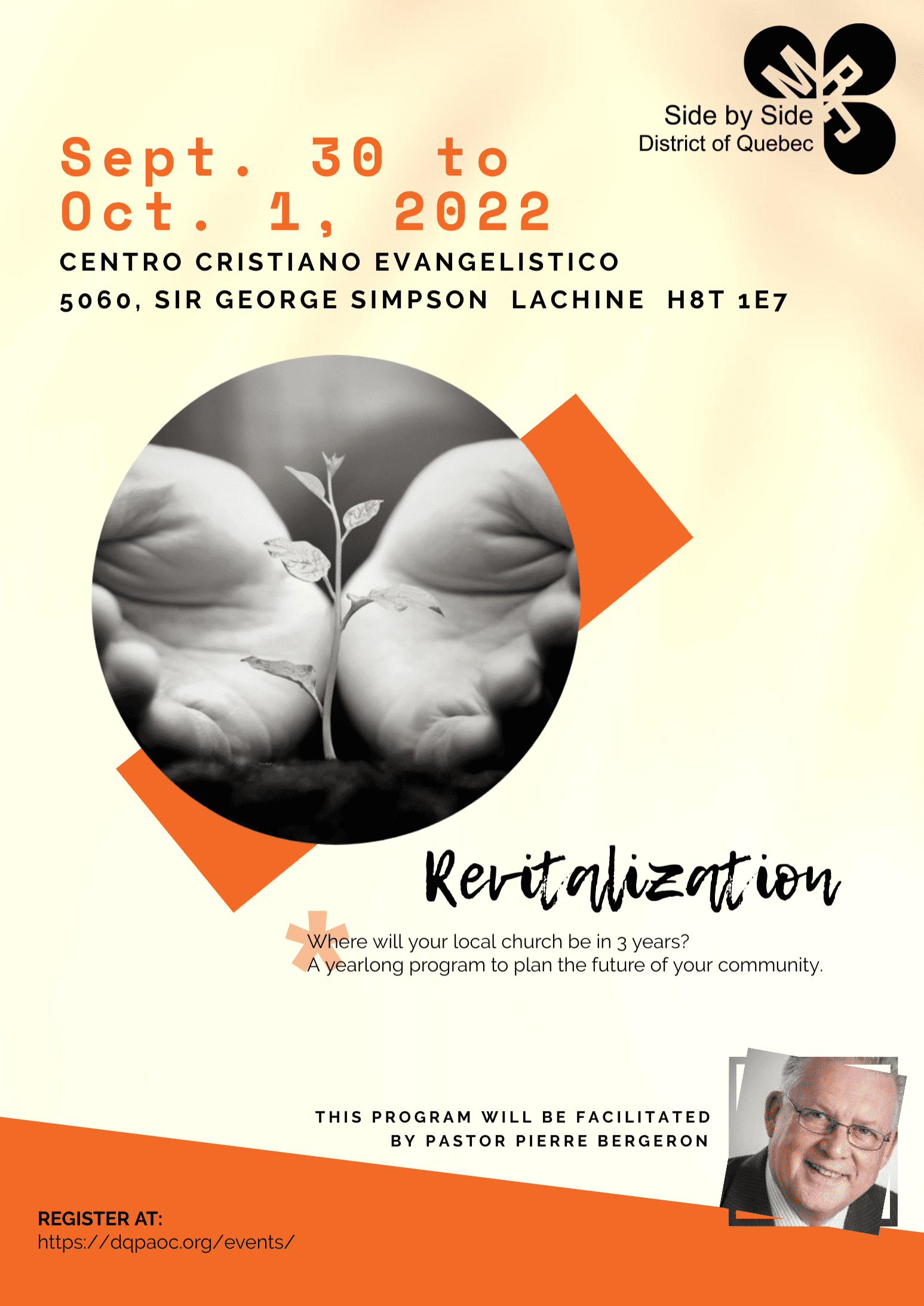 Revitalization 2022 (Seminar 4/4)
September 30, 2022 @ 1:30 pm

-

October 1, 2022 @ 4:30 pm

|

$25.00
** For our associated churches only **
As a district, our desire is to see more churches thrive, recalibrate, share the Gospel and grow. In late September, our District will hold the last of 4 seminars of our yearlong program to help pastoral teams build on the strengths of their congregation to better accomplish their vision.
Friday for the pastors and spouses
from 1:30 am to 4:30 pm
Saturday for the pastors, spouses, and the vision team
from 9:00 am to 4:30 pm
A little more information…
Precisely, what is Revitalization?
Revitalization cohort consists of four weekend retreats over the course of a year. Each retreat begins with a Friday event from 1:30 p.m to 4:30 p.m. for lead pastors and spouses. Among others, the subjects that will be and addressed are leading change, conflict resolution, time management, recruiting team members, casting vision, communication.
What will be the topics covered during the year?
The weekends will help teams answer the following questions and more: Why do we exist? Where are we going? How should we behave? How will we get there? How will we engage new people? How will we disciple them? And many more.
What will my team be committed to?
Pastors are asked to bring 8-15 people from their church who will help them plan the future of their congregation. The vision team can consist of deacons, staff members, and other influencers from a wide range of ages. The vision team is critical to the process as it will have full ownership of the Revitalization and will prove to be a great asset in helping plan and launch the strategy that will emerge.
Reference
The facilitator for this program will be Pierre Bergeron. He has been a leader since 1975. Pierre has been a church planter and a seminar chair. He has applied the process in the church he is presently pastoring and this will be the fifth cohort that he will lead.