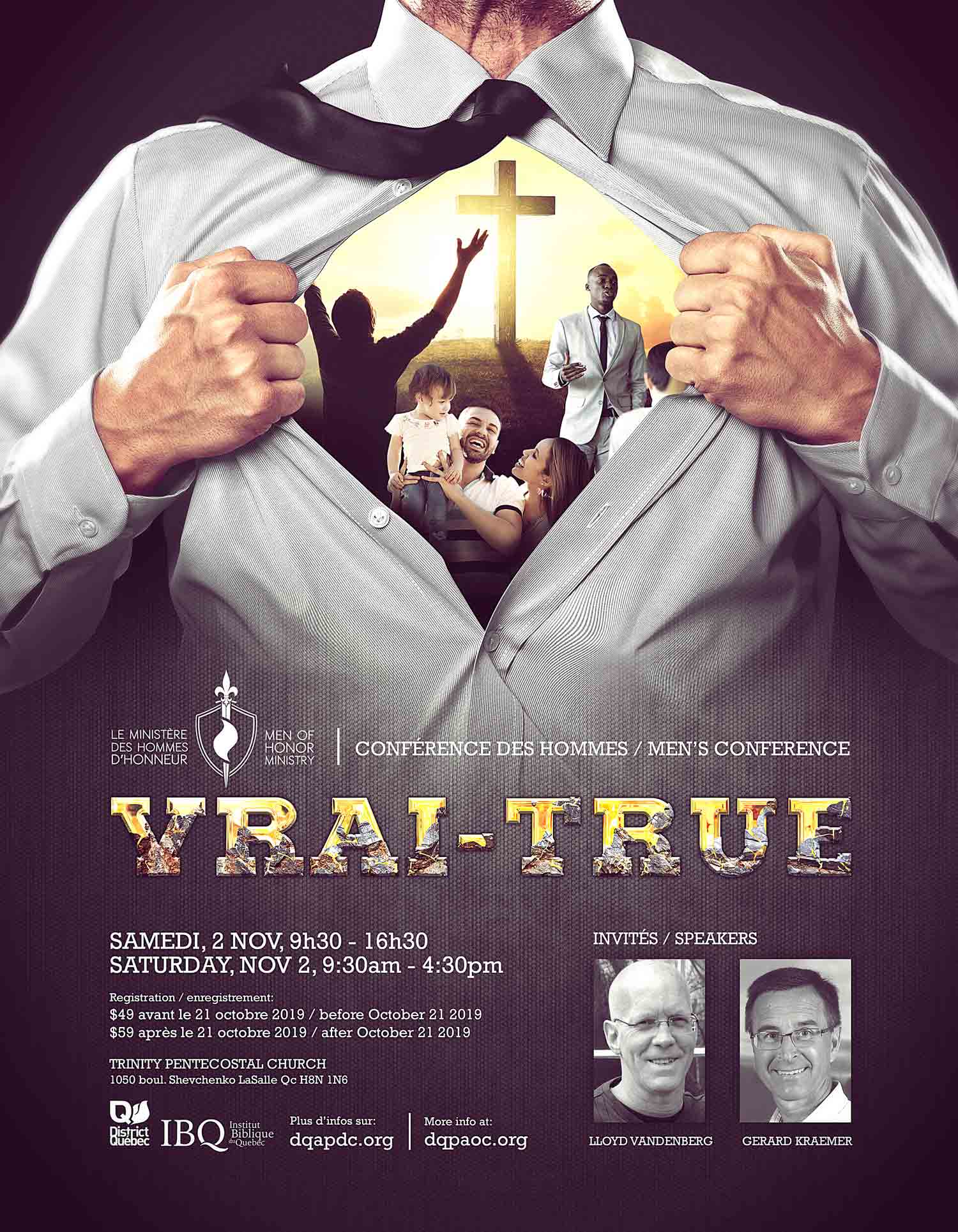 Men's Conference – TRUE 2019
November 2, 2019
|
$49 – $59
Description
The theme this year is TRUE. Our goal is to help men discover their true identity as disciples of Christ. In addition to our main guests, we offer a choice of six workshops. Worship sessions will be led by Ben Wagenmaker, from Carrefour Chrétien des Maskoutains.
$49 before October 21, 2019
$59 from October 21, 2019
——————————————————————————————————————————————–
Our main speakers
Gerard Kraemer
Gerry committed his life to Jesus Christ as Savior and Lord during his youth in his hometown of Winnipeg, Manitoba. In 1981, God called him and his wife Kathy in a clear and dramatic fashion to serve Him here in Quebec. Ever since, they have been in full-time Christian ministry together, including five years with Campus Crusade for Christ (evangelism and discipleship), 22 years of pastoral ministry and six years as the chaplain of the Montreal Alouettes CFL football team.
For the last eight years, the Kraemers have been serving full-time in a ministry to married couples, doing both weekend conferences (prevention) and crisis counseling in their home. They speak and teach together at conferences, Bible Camps, retreats, banquets and Bible Schools in both English and French, sharing with thousands of people each year the tools that can help them experience a healthy and flourishing marriage.
Gerry and Kathy reside in Terrebonne and they are the parents of three young adults: Timothy, Jessica and Rebecca. Gerry's hobbies include golf, softball, traveling and spoiling their grandsons Jacob and Caleb!
Lloyd Vandenberg
Husband, Evangelist, Musician
Lloyd is a teaching evangelist and president of New Generation Ministry. He and his family travel on a tour bus throughout North America sharing contemporary worship music and evangelistic ministry. He has spoken to churches in Canada, the United States of America, Holland, China and Australia.
Lloyd has appeared on various television programs including 100 Huntley Street, 700 Club Canada, It's a New Day, Nightlight and on the Cornerstone Television Network and speaks at conferences, church services and special meetings.
Lloyd is an ordained evangelist with the Pentecostal Assemblies of Canada and is also a licensed mechanic. Lloyd plays the bass guitar, sings tenor/lead, shares his testimony, teaches and preaches.
Lloyd discretely, but truthfully, exposes one of the enemy's secret strongholds. Yes, even in the church, addiction continues to plague so many men and women. It is his desire to encourage those who struggle with addictions or bondages to become absolutely convinced of God's grace to give freedom to every believer.
In 1973 Lloyd was sexually abused. As a result of this and other choices he made, he became deeply entangled in addiction. In 1992, Lloyd Vandenberg was very discouraged by this and thought he might never get free. His search took him through exercises like fasting, praying, memorizing many scriptures and reading great books. Freedom eluded him until one day that year he began to see where freedom is really found. Since finding freedom, he has become incredibly passionate about seeing others get free and has dedicated his life to this goal.
The purpose of his ministry is to "Bring freedom to people and bring people to freedom."
Since he began sharing his story, thousands have responded to the call to break free from strongholds, bondages and addictions.
Lloyd has recently authored and published a book, "Journey to Freedom".
You may contact Lloyd by email at lloyd@ngministry.org
——————————————————————————————————————————————
Our panellists
Kyvenz Amédée
Kyvenz' passion is to communicate the message of Jesus Christ to people from different walks of life. He has been preaching for over 20 years, believing firmly that God's Word and love can set hearts free, give a deep meaning to life, and open the way to a genuine spirituality. In 2017, after having worked for several years in banking management, then for the French ministry of the Canadian Bible Society, he was appointed as Senior Pastor of Gospelvie, a dynamic and multicultural church located in the heart of the south-centre area of Montreal. He is also co-founder of Inspiration Editions, the official literature provider of the PAOC Quebec District; he is also a member of the certified District coaches. He is married and the father of three children.
Jean-Frédéric Laroche
Jean-Frédéric is assistant-pastor at the Carrefour Chrétien de la Capitale where he served for over seven years in youth ministry. Presently involved in the relocation project of the church and in coordinating small groups, his greatest pride is at home with his three children and his wife Sindy.
His passion for teamwork and leadership development led him to organize several youth leadership conferences for the Quebec District. He is a very down-to-earth guy who loves people, loves serving God, loves cooking on his coal barbecue, a sports fan who is just glad to be happy.
Philippe Chassé
Philippe Chassé is the Strategic Director and Children Ministries Coordinator of the Quebec District of the Pentecostal Assemblies of Canada. After working with children for nearly 40 years, Philippe is still passionate to see their lives and their families transformed by the love of Jesus Christ. He and his wife Céline are the proud parents of their daughter Noémie.
Richard Swiatek
Richard was born and raised in Montreal. He grew up believing God existed but he never developed a personal relationship with the Lord.  By the age of seventeen, Richard had begun to abuse drugs and alcohol.  He led a double life for many years being employed by the armed forces and sinking deeper into addiction.  In the spring of 1995, Richard in desperation asked God to "save me or kill me". The next day he was led to his first 12 Step meeting where he began to learn to live again. Three years later he gave his life to Christ.  Richard has worked in children's ministries; he is men's ministry director at Trinity Pentecostal Church. He leads the Exodus support group for men. Richard has been leading the District's Men of Honor Ministry since 2014. He is married to Teresa and they have two children, Artur and Jasmine.
——————————————————————————————————————————————–
Our workshops
Lloyd Vandenberg / Real forgiveness
Gerard  Kraemer / Real tools for clear communication
Kyvenz Amédée / Real spirituality
Jean Fred Laroche / Real challenges for young adults
Phillipe Chassé / Real fathers
Richard Swiatek / Building a real men's ministry
---
Program flow
7:00 AM to 9:00 AM – Registration
9:30 AM – Worship
9:50 AM – Gerard  Kraemer
10:50 AM – Richard Swiatek
11:00 AM – Break
11:15 AM – Workshops session
12:30 PM – Lunch
1:30 PM – Workshops session
2:45 PM – Break
3:15 PM – Workship
3:30 PM – Draw
3:45 PM – Lloyd Vandenberg
4:30 PM – Closing